In the current edition of Knoxville Voice, Lisa Slade takes a look at the current state of moonshine in Appalachia. There's a lot of pretty well-known history, especially for those familiar with the region, but the assessments of moonshine's current cultural role is worth a quick read.

Meanwhile, I want to bring your attention to a home brew of a different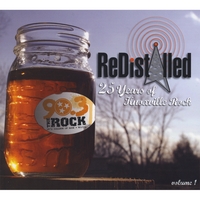 sort. WUTK, the University of Tennessee's student-run radio station, is offering up a very special collection of music. As a means of generating some much-needed funds, WUTK has produced Redistilled: 25 Years of Knoxville Rock. Basically, it's a great collection of current Knoxville music luminaries covering tunes from local bands of yesteryear. Knoxville has always had a thriving yet under-appreciated music scene, and this disc celebrates it as much anything you can find in one place.

If you want a copy, order it from either CDBaby.com, or get it at The Disc Exchange. For a closer look at WUTK, check out Mike Gibson's article "College Radio Blues" at Metro Pulse.