I'm sick. I'm tired. I have to teach tomorrow. I'm high on Stephen Colbert and Theraflu. All I have to eat are soy substitute "chicken." I was hoping to be done with a book I'm reading on native Americans from Tennessee by today so I could review it, but I'm not. I want to write, but I don't want to have to burn neurons late into the evening. Outcome?

Links. An entry on links. Why? Cause I'm gonna' let other folks do the thinkin' tonight.


The Mountain View Motel, South of Maryville


(Image courtesy of Swankpad)
Title:
Highway 411, Tennessee
Description:
Photos of Maryville, Etowah, and glorious Athens, Tennessee from the good people at
Swankpad.
Quote:
Swanky grew up a few miles from Etowah. Etowah is on Highway 411. There is an old theater here built in 1907, that they are still using. There was a play there at the time. Several nice antique stores. One that specialized in very old cash registers.
Title:
"Fiddling Around in Asheville"
in
Salon -
by
Burt Wolf
Description:
A simple, pleasant, heartening description of some of Asheville's finer points. Like bean soup - filling.
Quote:
The Civil War devastated Appalachia. Many people ended up poor, isolated and uneducated, and they became the subjects of these magazine stories. They were presented as "backward mountaineers living in a region within, but not part of, modern American life." Of course, there were thousands of people in the Northeast who were also poor, isolated and uneducated, but readers preferred imported stories of poverty rather than hearing of their own domestic problems. The stories about Appalachia were distorted. They focused on the peculiar and the outrageous. They ignored the natural beauty of the area, and the skilled, intelligent and responsible people who lived there. I recently traveled through the Appalachian districts surrounding Asheville, N.C., to see what this part of the world is really like.


Title:
Summersville Community Television
Description:
Television clips about Summersville, West Virginia. Pretty high quality stuff - I recommend in particular
"The Dam Flood of '66."
Quote:
Our goal is to provide outstanding quality video content which will educate, inform and entertain the great people of Summersville, WV... and now with our NEW website, the entire World!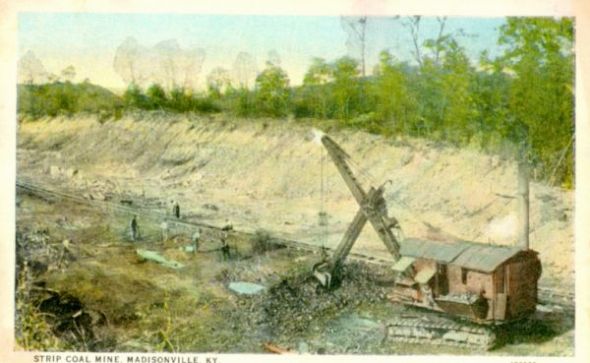 Postcard of a Stripmining Operation in Madison, Kentucky


(Courtesy Kentucky Coal Education)
Title:
Kentucky Coal Education Web Site
(to get into the site, you might need to click
here
)
Description:
A whole slew of intriguing links, images, and so forth on, as you might suspect from the title, coal-mining in Kentucky.
Quote:
Coal, 14 Cents
The Sweet Banner from
hburgnews
Title:
hburgnews
Description:
Essentially, this is an "online community," combination blog, links, and happenings page. Completely groovy - like a window into the local political and economic universe that is Harrisonvegas.
Quote:
It certainly seems that the city, Ritchie, and See are no closer to resolving the issue than they were three months ago. In the meantime, I'm sure drunken people will continue jumping the fence onto the faulty bridge.