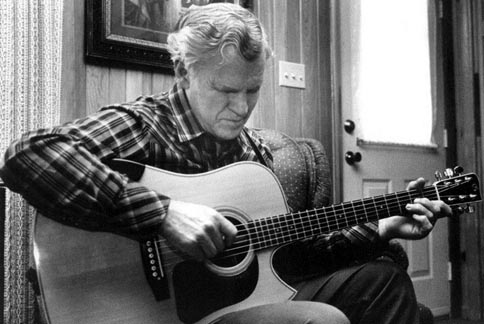 I had the privilege of listening to and watching Doc Watson play for a packed house at Appalachian State University this past Saturday night. If you have never attended one of his concerts, make it a point to see him before this legend becomes immortalized in history. At 83 years old, Watson plays and sings with the enthusiasm of a twenty-something. Starting at 8pm, a time when most people his age would be popping out their teeth and bunking down for the night, Watson played for nearly an hour and a half. Even after the ninety minutes, the crowd was left wanting more but thrilled to have shared an evening with a son of Northwestern North Carolina.

Watson was helped onto the stage by his grandson, Merle's son, Richard. Richard Watson is one mean blues picker who traded off lead and rhythm responsibilities with his grandfather for one third of the show. The two played a mix of traditional bluegrass and old-timey blues. The highlight of this set was when Doc started talking about his wife, Rosa Lee, who he married in 1947 and who was also in the audience. After her introduction, he dedicated the next song to her, Shady Grove. The solos he played during each verse break were amazing. I don't see how a man's fingers can flow so smoothly and fast over the frets and strings much less a man of his age.

Richard then exited the stage to give Doc some intimate time with the audience. He made a nice comment about Richard as he was leaving the stage that showed the character of the man, "Richard isn't just my grandson but he's also my friend." Most of the songs played during this third of the concert were traditional songs of Watson's. A few foot-stomping bluegrass songs but mainly ballads and blues. After this solo stint, Watson invited guitarist Jack Lawrence to join him on stage. Lawrence's picking is quite amazing in itself. Watson generally did not leave the low end of the neck for his picking where as Lawrence used the high upper octaves to harmonize with Watson's playing. What was even more amazing were the dual solos that the two played during their set, both playing in unison but one playing a third or fifth step above the other.

For me, seeing Doc Watson is like hanging with your grandfather on a back porch on a steamy, lazy Summer evening; with Grandpa pulling out his guitar and casually mesmerizing you with his rich playing and soulfully warm baritone. His concert showed me is that in many aspects of life, age is indeed relative and music is timeless.