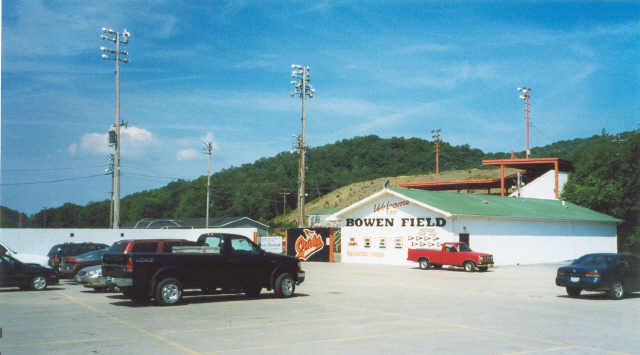 Bowen Field


(Image from BallParkReviews.com, which is worth a visit)
Summer is here. For some this means more light, higher temperatures, barbecues and short-clothes. But I am a Bluefielder, and so summer is more complicated. Of course, summer is when the
chicory
-season starts, when
our
flower opens its face until autumn becomes just too damn much and it furls its standard against the intrusions of snow and frost. Summer is lemonade season for the Bluefielder, the time when children pray for it to reach 90 degrees, those one or two days a year when Bluefield isn't air-conditioned by the Deity, those one or two days a year when cheerleaders line the streets and parking lots of one town in two states distributing water teased with
lemon juice and sugar
to all comers, a secular communion. The backwards Dairy Queen (down on the Avenue) is open in the summer in Bluefield, forcing passengers to act as diplomats between drivers and cashiers. And summer is when Bluefield becomes a baseball town, a place for 18-year-old boys from around the Union and, more recently, the Western Hemisphere, to come and play a game against other 18-year-olds. For fun.
I miss Bluefield.
All that said, I write this entry to tell you good people who are not from Bluefield-on-the-Mountain about a special thing happening in my hometown, an anniversary. No, no, not the anniversary of the
marriage of the two Bluefields
- Graham, Virginia to Bluefield, West Virginia (Graham took Bluefield's name), though that would be a good topic of conversation. No, this is a different anniversary - a 50 year anniversary between the two Bluefields' and a baseball team in Maryland named after a bird that look like Halloween (flying) and build nests that look like pockets.
This is important - it is the oldest relationship between a major league team and a farm affiliate - ever. For fifty years Bluefielders have been Orioles fans, watching their storied Baby Birds, glorying in the ancient art of divination (which 18-year-old playing a game will go to the major leagues? which will be a Hall-of-Famer?). My grandfather had season tickets at Bowen Field. My father played baseball there - it is why he came to Bluefield, how he met my Mother (God rest her) - playing with some of the most storied players of
Oriole
fame (
e.g.
Eddie Murray and Mike Flanigan). I watched more than 20 seasons there, just below the press box (except in high school, when I would flirt in the upper decks). The last place I spoke to my friend Brad (God rest him) was there, in the grandstands, as we sat and talked about our plans at the last game of summer (and the only day game of the year), a late August afternoon with near-empty stands three hours before the Graham/Beaver football game a few hundred yards away. Men and women have been born, grown, had families, and died watching baseball in that place.
I love Bowen Field, because for me, it is an embodiment of all that is good with Bluefield, with baseball, and yes, I'll be cliche, with America. There in Bowen Field, where the legendary Oriole Way still reigns, there are rules. There is order. The grass, the dirt, the chalk lines, the wind, the fans, the orange paint, the sound of a ball in leather or against ash, it is all good. I pray, literally, that Bluefield and the Orioles have many, many more anniversaries because I don't believe that Bluefield would be the same place without the O's - and I doubt that the Orioles will still be striving for the Oriole way if they have decided to pull up posts here, and baseball will be much the worse for it.
I ramble. Apologies - I just wanted to write some thoughts on Bluefield and the Bluefield Orioles, and I have. I'm adding some links below - if you don't know much about the Baby Birds, they warrant a little attention. And if you do, well, hopefully I'll see you in couple of weeks.
The Bluefield Orioles
(home page)
Selected Ballparks of the Appalachian League
(Bowen Field)
Wikipedia
("Bluefield Orioles")

Our Sports Central
("Bluefield Orioles")
The Bluefield Daily Telegraph
("Fans invited to fill photo gaps in Orioles' history")
The Baltimore Sun
("Out of the Blue")
And please, support minor league baseball.